Frequently asked questions V2
What is a cosmetic product?
Cosmetics are products that allow you to clean the body, to protect the body, to take care and maintain the healthy status of the body, remove unpleasant odors on the body, to perfume the body  or even to change the body's appearance.
Here are a few examples: face cream, body lotion, lip balm, soap, toothpaste, makeup, nail polish, deodorant, shampoo, shower bombs, etc.
Who is the responsible person?
As owner of your cosmetics brand, you become the responsible person for your cosmetic products. That is whether you make them in your own lab, outcontract the production or buy them overseas.
Which address do I use for my products if I am the responsible person?
I generally recommend you  put your company's official address. It must be in the European Union. If you are a "larger" company with several addresses, you can choose the most relevant one. It does not need to  be the address where the products are manufactured. It actually needs to be the address where the PIF is stored. If you decide to put several addresses on your products, please highlight (e.g. underline) the one where the PIF is stored.
What does CPSR stand for?
CPSR stands for Cosmetic Product Safety Report.
It is a report, written by an expert is cosmetic safety assessment, which reviews your product and each of the ingredients and determines whether or not your product is safe for consumers (your clients).
Do I need to modify my CPSR if I modify one or two ingredients in my formula/recipe?
Yes, you will need to have your CPSR (cosmetic product safety report) modified if you change any of the ingredients.
The safety evaluation was based on the ingredients submitted at the time of the report. It is important to verify that any ingredients you add to your formula, or even change in proportion,do not impact on the safety of your product.
Such updates can be done relatively quickly and cheaply if you have only changed one or two ingredients.
What language does my CPSR need to be in?
The CPSR is generally written in english to allow you to provide it to the relevant authorities around Europe. In most member states English will be "a language easily understood by the competent authorities". You may wish to have the CPSR translated into your country's language(s) if you wish, but in general it is not necessary.
Why is a CPSR so expensive?
Everything is relative. When you consider that a CPSR can only be written by someone who has had extensive years of scientific training at university and acquired experience in the field of toxicology and safety assessment, you realise you are dealing with someone who is highly qualified. Most importantly, a CPSR takes many, many hours to prepare and write since every single ingredient in your formula/recipe needs to be evaluated, as well as the finished  product. I often think about how much my plumber charges me to fix a leak (a couple of hundreds of Euros for one or two hours of work), and compared to this, the CPSR is rather cheap!
Do I need to show the CPSR to anyone?
Since your CPSR contains confidential information ( i.e. your formula) , I would recommend you only show this document to the approved European authorities.  Should any clients, shop keepers, etc ask you if you have a safety report, you can show them the first page of the CPSR report that I provide you with.
What does PIF stand for?
PIF means Product Information File.
It is a long report, which you need to keep up to date. It will include 1) the product description, 2) the CPSR (Cosmetic Product Safety Report), 3) the method of manufacture and a statement of GMP compliance, 4) the claims and any proof of effect for the product (if you are making any claims on its efficacy), and 5) data on animal testing.
Do I need to modify my PIF if I modify one or two ingredients in my formula/recipe?
Your PIF is exactly that: a product information file. Any changes to your product and new information (for example new stability data, information on new lots, efficacy data, etc) need to be integrated into your PIF.
What language does my PIF need to be in?
The PIF is generally written in english to allow you to provide it to the relevant authorities around Europe. In most member states English will be "a language easily understood by the competent authorities". If you, as the responsible person, are keeping your PIF up to date and english is not a language your are fluent in, it is best to write the PIF in one of your country's official languages (even if the CPSR is in english).
Where do I store my PIF?
Your PIF needs to be made available in electronic or other format at your (company) address. This is the address that is indicated on the product label.  The PIF needs to be stored for ten years after the last batch of the product was placed on the market.
Do I need to modify my CPNP submission if I modify one or two ingredients in my formula/recipe?
The CPNP (Cosmetic Product Notification Portal) acts as a portal for all the poison information centres around Europe. If you change an ingredient,  any precautions or even the packaging, you will need to modify your CPNP. This will ensure that all the correct information is available to all the EU poison centres so that they can take the appropriate action in case of a problem with your product.
Do I need an MSDS for my product?
Officially no. Cosmetic products do not need an MSDS. But it is always good to have one if you plan on shipping your product.
What do I have to do  if I include fragrances/perfumes in my recipe/formula?
Perfumes (fragrances)  often contain top secret ingredients. If you do use a perfume where the ingredients are not clearly listed in INCI format on the product (or on attached files with the product), you will need to request a document from the supplier. This document will need to include the name and code number of the composition, as well as the identity of the supplier. You should also request an IFRA certificate for that perfume.
What do I do if  I sell products made by another company for me (private label products)?
Private labelling means that another company has designed and manufactured a cosmetic product for you. They own the formula and are therefore the "responsible person".
They will provide you with a finished product and you can stick your label on it. Their name must be on the label/packaging as well since it is this company who is the "responsible person".
They will generally also have the CPSR and PIF files for the product, since they own the formula.  I would recommend you also hold your own mini version of a PIF for the product, so that you keep track of any necessary information related to the product. For instance, proof that the CPSR exists, any lots that they have produced (lot numbers, expiry dates, batches, etc), the GMP certificate, efficacy data (which you may have generated yourself) and any relevant information on animal testing.
The private label company will take care of the CPNP submission since your product will be added to the list of products for which they are responsible for. You can ask them for proof of the CPNP submission (it's a one to two page pdf file) or  the CPNP number for your reference.
How do I fill in the CPNP form?
CPNP forms a relatively easy to fill in once you have your account on the portal. Just go to the portal website tutorial and follow the steps to create your account, then once the account has been created, you can start registering your product(s).
https://webgate.ec.europa.eu/cpnp/public/tutorial.cfm
What information needs to go on my product label?
This picture gives you a good idea on what needs to be on your products: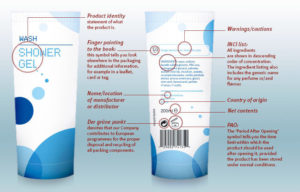 source: www.cosmeticseurope.eu
You can find more details on the symbols etc on the packaging via this link: https://www.cosmeticseurope.eu/cosmetic-products/understanding-label/
What are allergens and how do I list them on my INCI list?
There are 26 allergens that must be listed in the INCI ingredient list. More may be added in the future. I will let you know which ones need to be listed in the ingredients list on the product label.
Amyl cinnamal (CAS No 122-40-7)
Benzyl alcohol (CAS No 100-51-6)
Cinnamyl alcohol (CAS No 104-54-1)
Citral (CAS No 5392-40-5)
Eugenol (CAS No 97-53-0)
Hydroxy-citronellal (CAS No 107-75-5)
Isoeugenol (CAS No 97-54-1)
Amylcin-namyl alcohol (CAS No 101-85-9)
Benzyl salicylate (CAS No 118-58-1)
Cinnamal (CAS No 104-55-2)
Coumarin (CAS No 91-64-5)
Geraniol (CAS No 106-24-1)
Hydroxy-methylpentylcyclohexenecarboxaldehyd (CAS No 31906-04-4)
Anisyl alcohol (CAS No 105-13-5)
Benzyl cinnamate (CAS No 103-41-3)
Farnesol (CAS No 4602-84-0)
2-(4-tert-Butylbenzyl) propionald-hyd (CAS No 80-54-6)
Linalool (CAS No 78-70-6)
Benzyl benzoate (CAS No 120-51-4)
Citronellol (CAS No 106-22-9)
Hexyl cinnam-aldehyd (CAS No 101-86-0)
d-Limonene (CAS No 5989-27-5)
Methyl heptin carbonate (CAS No 111-12-6)
3-Methyl-4-(2,6,6-tri-methyl-2-cyclohexen-1-yl)-3-buten-2-one (CAS No 127-51-5)
Oak moss and treemoss extract (CAS No 90028-68-55)
Treemoss extract (CAS No 90028-67-4)
How long does it take to get my CPSR?
I generally try to send you back your CPSR within 2 to 3 weeks. I have many CPSRs to finish before I can get to yours, I will inform you upfront if there is an additional delay.
Can you do the CPSR, PIF and CPNP submission for me?
Of course I can. Just let me know what you need me to do when you send me an email.